So!  On Wall Street, we hear that $4.3 billion in stock was set aside for the retirement of some of the most highly-compensated managers at AIG.  And for continuation of their bonus lifestyle. Now, Hank Greenberg is being officially accused of stealing that fund.  From what I've read I wouldn't put it past him.
Wait a minute.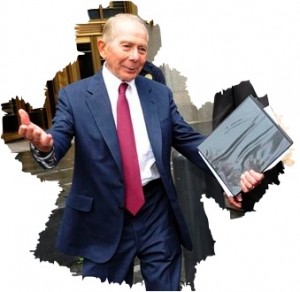 How dare AIG set up a trust fund for management only? Even if it's been government-owned only since last year, before that it was government-related and before that, it was still a public corporation. Can they do that?
A goddamn trust fund for the already rich. How… predictable.
That Wall Street Maurice Greenberg is one little sonofagun. His little pursed mouth looks like he's trying hard to smile and keep his false teeth from falling out at the same time.
And the attorneys on either side: Boies, Greenberg's lawyer, represented the Gore side in Bush vs. Gore in 2000. Well, he's now obviously on the wrong side.  And then the other guy, Theodore Wells, defended Scooter Libby in his criminal trial. Why is he now representing AIG in a civil trial? 
Oh, right. Big business is all criminal. So he isn't actually going out of his specialty. In fact, I'm not kidding. It looks like U.S. business today is composed of 95% theft, 4% poor judgement, and 1% advertising.